Plugins
Want to spice up your website and offer your visitors something that they'll want to keep coming back to?
We offer a number of features to enhance your website and make it easier and quicker for you to update, encouraging visitors to return more often and spend longer on your site.
Here are a just few suggestions, but we've got plenty of other ideas if you want to chat about how we can help you update your website.
Case studies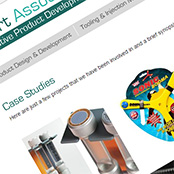 We can display a list of your case studies with introduction text and optionally a thumbnail image for each, plus a link to read more which clicks through to full details and further images.
These can be displayed as a vertical list or in a horizontal slider; drop-downs can be added to help people find examples they are particularly interested in.
Case studies can be combined with an embedded map to display them geographically.
Examples:
Be Healthy At Work - examples of good practice promoting staff health in workplaces
Plug Into The Sun - solar installations which can be searched by type of technology and sector
Smartfix - car repair businesses who have benefited from joining the Smartfix network
Embedded map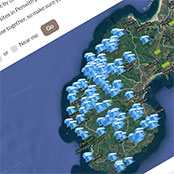 An embedded Google map can be marked with pins indicating notable locations and then displayed inside your website. This gives all the functionality that people expect from a map - zooming in and out, switching between map and satellite, while displaying information which is just relevant to your website.
This is suitable for case studies, projects, places of interest or just about anything. The pin icons can be customised and the pin pop-ups contain more information and a link to more information.
Examples:
Be Healthy At Work - a map showing workplace health around Cornwall
Absolute Touring - a map showing places of interest in guide tours of the Cotswolds
Member area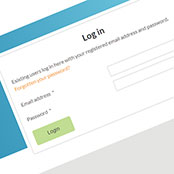 With a member area, visitors can register themselves on your site to access pages not available to normal visitors, update their own records or submit information. Once they've clicked on a link in an email to activate their account, the member can login to the restricted area.
The whole system is completely automated so you don't need to get involved - there's even a forgotten password form.
Visitors will get more out of your website and your company will have a closer relationship with them.
Examples:
Goss Consulting - a hydrographic recruitment company which allows contractors to register, apply for jobs and upload relevant documents and information for their applications
Weight Matters - a weight management project where members can keep a diary of their exercise and weight changes and sign up for a 10 week plan with automated reminder emails
MGA Consulting - the registration form allows the site to capture details of people interested in services for children and young people with speech, language and communication needs
Booking system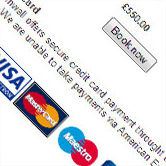 Whatever your budget, there's a booking system to match.
From a simple page which you can easily update through our Content Management System (CMS), to an all-singing-all-dancing web booking system with real time availability, online payment and email confirmations, we can integrate the most suitable method of online bookings into your website.
Examples:
Simply Time in Cornwall - top of the range custom booking system for 3 gorgeous properties in Charlestown, Cornwall with seasonal rates, voucher codes, online reservation, booking and payment
The Cormorant Hotel, Golant - a booking form on this website sends availability enquiries to the hotel's third party online booking system
Fowey Retreat - a specially formatted page with dates and availability which can be easily updated with rates, courses and bookings through the CMS
Online payment
These days it's not enough to view products on a website and submit an online order - customers expect to be able to make an instant online purchase. There are several options but we usually recommend PayPal as a quick and affordable way to add e-commerce to your site.
All transactions are carried out on PayPal's secure web servers, visitors can pay by credit card or with their PayPal account, and your website will be automatically updated with the success of each transaction. PayPal lets you set postage and tax rates and offers a shopping cart for your site.
Examples:
Houlding and Houlding - artists Bev and Mark in Fowey, Cornwall, sell their paintings directly through their website using PayPal
Weavers Bazaar - an online shop selling a range of pre-dyed yarns for tapestry and rug making; there are different options for weight of wool, quantity and price depending on the product chosen
Forms and questionnaires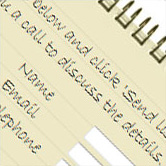 They may not sound glamorous, but online forms and questionnaires save a huge amount of time and money in data collection and printing costs.
Information entered through an online form or survey can be stored in your CMS or emailed to you. Great for you because it's more convenient and high quality (the online form will warn people when they've missed a question or filled out conflicting answers); great for visitors because it's quicker and less hassle - win-win!
Examples:
Eatsome grant form - this grant application form instantly cut out the work associated with typing up paper submissions; handy features like the automatic cost totaller makes it easier for applicants to fill out
Simply Time to do list - lifestyle management company Simply Time carry out day-to-day tasks for busy people; this form is a quick and easy way for customers to send frequent shopping requests
Banner image rotator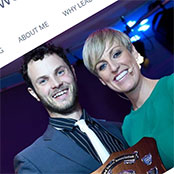 Your homepage needs to create a good impression fast, but there's not much space to convey everything you want in a single image. An image rotator lets you display a series of attractive images which grab your visitor's attention and convey lots of information.
Each image clicks through to a relevant page, and the images either fade from one to the next or your visitor can click forwards and backwards through them.
Our image rotators don't use Flash so they'll work on iPhones too.
Examples:
Institute For Strategic Dialogue - this London-based think tank use an image rotator on their home page to highlight their recent events
First Aid at Work - this first aid training company uses an image rotator to advertise the most popular courses that they run and link to further details
Susanna Stables Photography- Susanna's website is all about her photographs so an image rotator showcase a selection of her work on the home page was an obvious choice
FAQs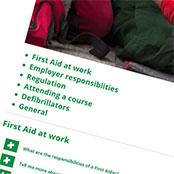 Frequently Asked Questions (FAQs) are a tried and tested format for presenting information in a readable, digestible format for visitors.
A well-worded FAQ page will answer a visitor's question and suggest other information which may be relevant.
It's also great way to improve the content of your website so that it's optimised for search engines.
Examples:
SmartFix - this alloy wheel repairer has FAQs for two different audiences, private individuals and partner companies
Plug Into The Sun - potential customers often ask this company the same questions about solar power; displaying the answers on their website frees their staff up to deal with other enquiries
Side panels
Side panels are feature boxes within your website page template which display snippets of content.
They can be set to appear on multiple pages, randomly or at particular times of the year.
They are ideal for advertising special offers, promoting key areas of a website or suggesting something seasonally appropriate.
Examples:
Be Healthy At Work - this healthy workplace website uses side panels to highlight case studies and to offer top tips for staff well-being
Eatsome - this healthy eating website promotes seasonal foods and food facts in featured side panel boxes
Simply Time - this lifestyle management service uses feature boxes to suggest services that visitors may not be aware are available or may not have considered using
Multilingual site
Your website has a global audience - communicate with them in their language! If your customers are overseas or you are targeting particular countries, why not translate the content of your website? We can update your CMS so that you can enter the translations for every page.
Examples:
Simply Time in Cornwall - the website for these self catering holiday cottages in Charlestown, Cornwall is fully translated into German; all language versions can be edited through the CMS
Lostwithiel - this website aimed at visitors and tourists has a home page in French and German as well as English - click the flags in the top banner for each language
Visitor polls
Encourage visitor feedback and give people a reason to return to your site.
A poll is an interactive feature which allows you to set a question and a choice of options, then lets your visitors vote for the most popular answer.
It's a fun, personal touch to your website and you'll find out a bit more about your visitors.
Examples:
Gilbury Farm - this smallholding which sells ethical pork, eggs, chicken beef and lamb uses a poll to get people thinking about the food choices they make
Skyfield Communications - this PR company uses a visitor poll to quiz visitors on topical issues and to keep their website fresh and dynamic
Image/video gallery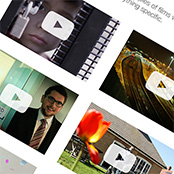 Display your images or films in a gallery or a series of galleries. The gallery will display a limited number of thumbnails which visitors can page through. Clicking on one will bring up the full size image or film with a title or caption.
Examples:
Houlding and Houlding - these Fowey-based artists each have an image gallery which shows pages of image thumbnails with a link to click through to the full size image
Media Spaces - this film making company has a gallery of recent videos they have made; click on one of the stills to view the film in a pop-up movie player
Twitter/Facebook integration
Integrate your Facebook or Twitter feeds into your website.
If you're already updating Twitter or a Facebook page for your business, it will save you time and effort to have your website automatically update from your social networking sites.
A fresh, dynamic website with your latest tweets or posts will encourage visitors to return time and again.
Examples:
Skyfield Communications - current affairs and latest trends are key to this PR company, so displaying their Twitter stream on their home page keeps the website just as up-to-date