Working on the web means that theoretically, we can work wherever there's a (decent) internet connection. Hence moving to Spain! But it's not always as simple as it sounds.
As a small company of just two people, we don't need much space. Stanley the dog takes up about as much room as our office. However, there's a difference between having a truly portable working environment, and one that's reasonably easy to transfer from one place to another.
Pretty much all our working life, we've had tower PCs. Our kit used to consist of a tower that sat under our desks connected to a screen, keyboard and mouse/graphics tablet (depending on whether you're Kat or Mat). Towers are generally cheaper, more powerful and easier to upgrade or replace parts than laptops.
For many years, our office consisted of:
2 workstations (desks with tower PCs)
a third tower PC for storing shared office files and code
a laptop for meetings and when we were away from the office
printer/scanner
whiteboard
stereo
peripherals such as router, phone etc.
The only equipment we need day-to-day is our computers, and while tower PCs are fine, they don't allow you to up and work in a cafe or co-working space if the mood takes you. Or, for example, if you need to escape town for a few weeks to avoid a very noisy, disruptive festival (yes Las Fallas, we are talking about you), packing the office up meant quite a few heavy boxes.
We decided to make a change which would reduce the space and energy consumption that our technology needed.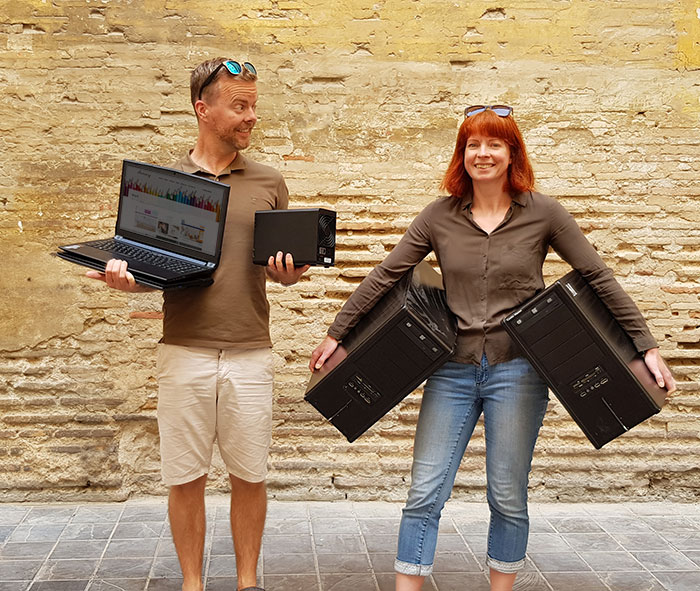 Firstly, we replaced our shared tower PC with a tiny Linux file server the size of a large book, which uses only 17 watts compared to over 100w for the old server. At the same time, we transferred all our code repositories to the cloud so we didn't need the shared office computer as much.
Secondly, we replaced our tower PCs with laptops. We still plug in external screens, keyboards and pointing devices but the computer itself is much more portable. Plus we have the option of just using the laptop if we want, although we both feel much more comfortable using an external keyboard and a large screen so we wouldn't want to work on a laptop very often.
Finally, we replaced our stereo with a portable speaker that can run Spotify and has an eight-hour battery life. Now we could go and work in the park, except it's too bright to see the screen :(
Our VOIP phone plugs into any internet connection so we can take our "UK landline number" with us wherever we go.
There are much smaller printers available than the one we have, but while it's still working fine we'll hang onto it.
So when we moved our office out of Valencia last month, we were able to pack up all our computers, screens, keyboards and all the peripherals into two very handy suitcases. This was the first test of our new mobile office, but now that it's so much easier we are tempted to try another outing!
We still haven't found a way of downsizing the whiteboard yet.