Hi, Mat here. As a classic early adopter, I've always had a good mobile phone.
A short history of Mat's phones through the ages
All the way back in 2000 I bought a touch-screen Ericsson R380 (right). It came with a little stylus and required me to learn to write differently in order for handwriting recognition to work. By today's standards it was slow, annoying to use and the black and white screen had very poor resolution.
In 2003 I bought a Sony Ericsson P800 which had a colour screen and a (terrible) camera. I was living in the future!
In 2008 I bought my first iPhone, the iPhone 3G. It was the first iPhone that had GPS and 3G data capabilities, and it was truly a wonder of engineering. I was totally sold on Apple products, and I seriously considered moving from Windows PCs to a Mac because of that little phone.
I've had four iPhones in total, the iPhone 3G, iPhone 3GS, the iPhone 4S and then the iPhone 6S in 2015. Each time I've bought a new one because the old phone was getting noticeably slow, or lacked features, or just filled up.
NEW! iPhone X
In the summer of 2017 I'd been thinking it was time to upgrade again, and the iPhone X seemed like the natural choice. Apple do an amazing job of marketing their new phones, and I always felt like a second-class citizen every time they brought out a new one if I didn't own it, and I felt like royalty if I did.
Like every iPhone owner I feared the change from the Apple ecosystem to Android. But some good friends, Martin and Aiste, had recently bought the latest Samsung phones and were raving about them, and I admired the amazing camera and stylus - I love doodling and use a graphics tablet instead of a mouse every day.
I made a spreadsheet comparing the iPhone X with other smartphones, trying to justify the enormous cost of the iPhone X:
| | | | |
| --- | --- | --- | --- |
| Name | iPhone X | Samsung Note 8 | Google Pixel 2 |
| Size | 143 x 71 x 7.7 mm | 162x 75 x 8.6 mm | 145 x 70 x 7.8 mm |
| Volume (cu mm) | 78,178 | 104,490 | 79,170 |
| Weight | 174 g | 195 g | 143 g |
| Screen size | 150 mm | 160 mm | 130 mm |
| Resolution | 2436 x 1125 | 2960 x 1440 | 1920 × 1080 |
| PPI | 458 ppi | 521 ppi | 441 ppi |
| RAM | 3 GB | 6 GB | 4 GB |
| CPU | 6x 2.39 GHz | 4×2.3 GHz, 4×1.7 GHz | 4 × 2.35 GHz, 4 × 1.9 GHz |
| Camera | 12 MP f/1.8 | Dual 12 MP f/1.7 f/2.4 | 12 MP f/1.8 |
| Battery | 2716 mA·h | 3300 mAh | 2,700 mAh |
| Network | LTE | LTE advanced | LTE |
| Headphone | No | Yes | |
| Price | £999 | £703.17 | £629.00 |
While I could clearly see that phones like the Google Pixel 2 and the Samsung Galaxy Note 8 were technically superior and cheaper, I just couldn't seriously consider moving from iOS to Android.
So when the story came out about Apple deliberately slowing my phone to push me into upgrading (I don't know if it's true or not), I jumped ship and bought a Note 8.
It took me all of a week to learn how Android works, and now I love the Note 8!
Here are my favourite reasons:
#1 Widgets
I love being treated like an adult and being able to change almost any aspect of the interface, like making my own custom home screen with Nova that shows the phases of the moon, battery life, weather forecast and activity level. I can get more icons on the screen because I don't want to show their labels - I know what all these mean: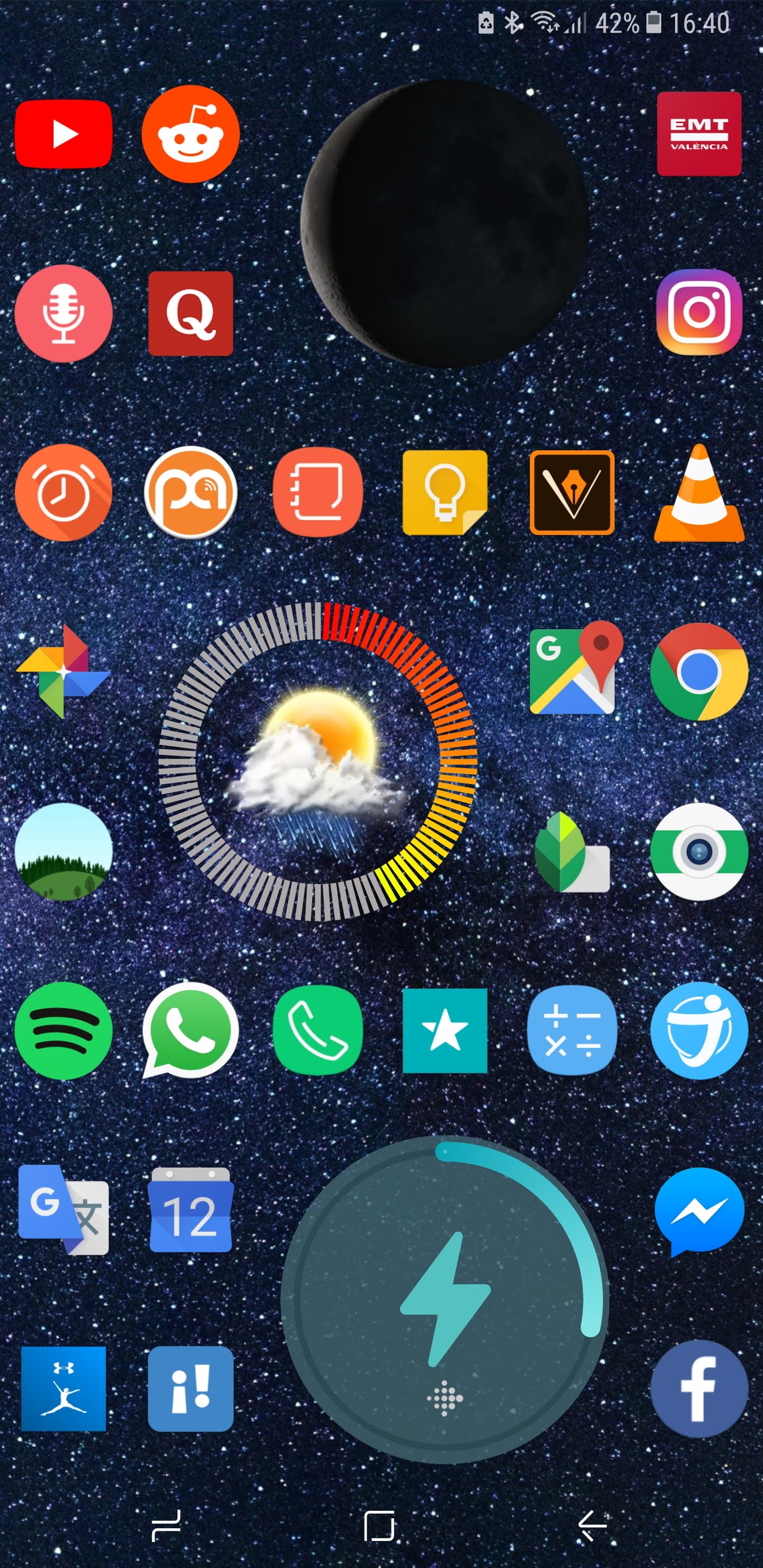 #2 Customisation
I love setting my own power management settings:
#3 The screen
I love the Note 8's gigantic and beautiful OLED screen, it's big enough to work on a spreadsheet with the stylus: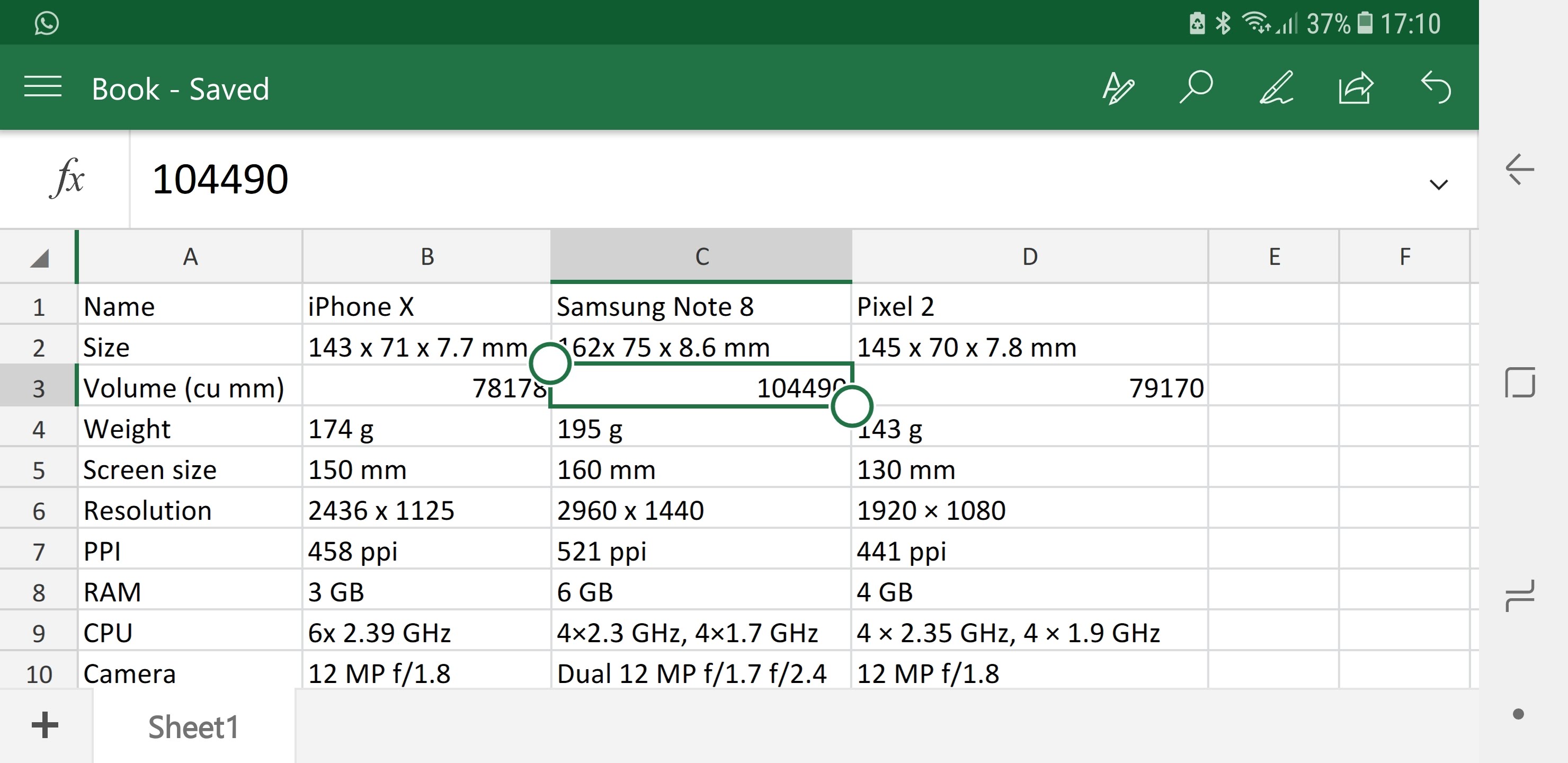 #4 The camera
I'm head over heels for its incredible camera that makes Kat look like The Terminator: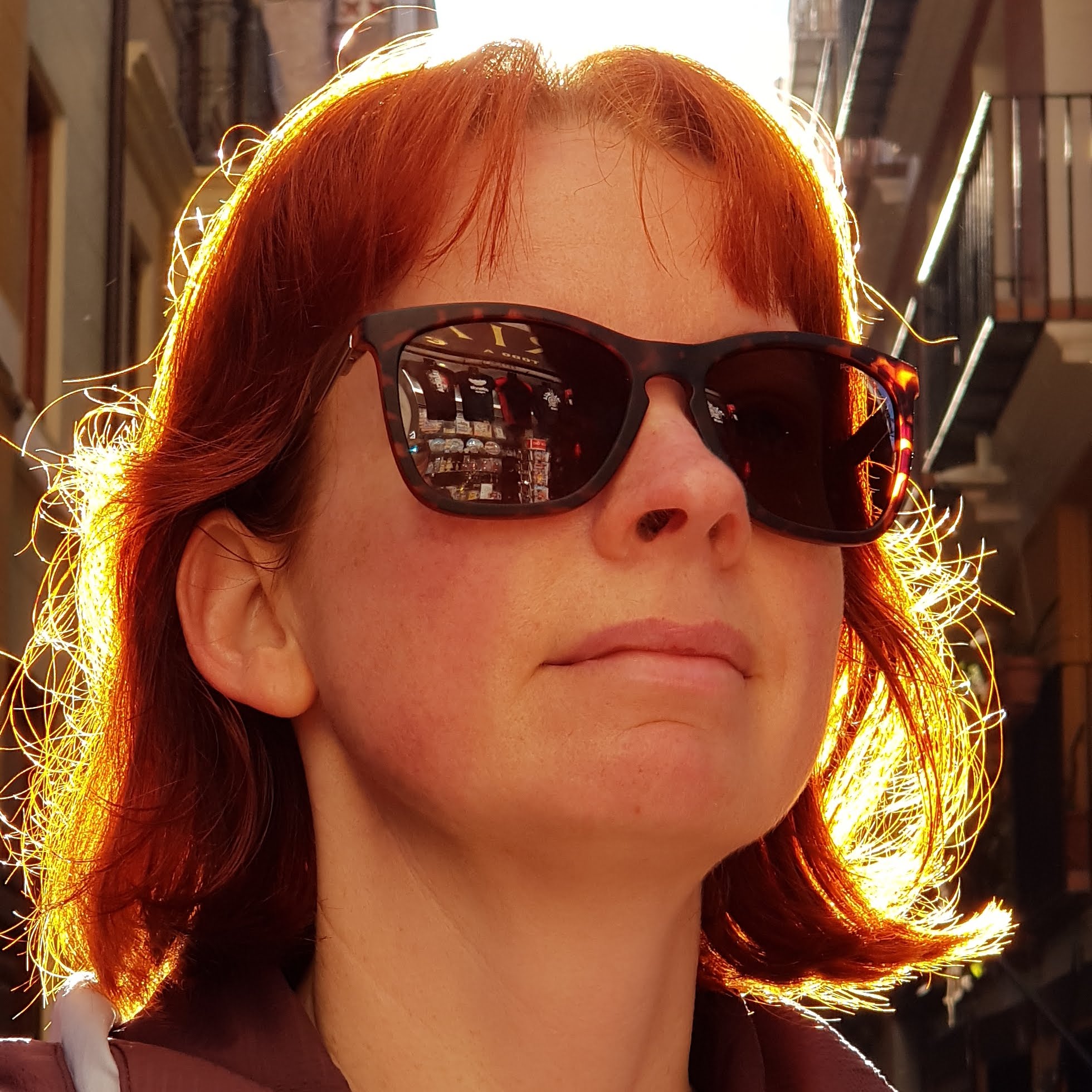 #5 Split screen
I love having being able to have two apps open at the same time so I can be reading Spanish with the dictionary open, or watching a Youtube movie and checking Wikipedia at the same time.
#6 Freedom
But the biggest advantage for me is not being tied to Apple.
I no longer have to use the appalling iTunes to sync music on my phone. How many hours did I spend shouting at iTunes because it stopped syncing after half of the albums, or that time it filled up my hard drive with so many iPhone backups that it ruined the SSD?
Samsung generally leave me alone and don't try to force me into using their services, so I haven't received a surprise U2 album (remember that?) and I've got access to every file on the phone just by connecting by to a USB cable. The Note 8 uses the new USB-C standard so I'm not tied to the stupid lightning connector either. And it has a 3.5mm headphone jack so I have a choice about what kind of headphones I want to use.
Do it
Honestly, if you're even considering moving from Apple to Android, do it. The Android ecosystem isn't hard to learn, and the freedom compared to Apple is refreshing.
The Note 8 is the best phone I've ever owned, and they're not paying me to say that!