Hi, Mat here. Today I'm celebrating a truly awesome event, it's twenty years since my first website went live!
In between my second and third years at university, I had a summer job working for Henley Management College, the usual office typing and filing. I was hoping to earn enough money to buy my first PC, a Windows 95 machine with a lightning-fast 166MHz processor.
Henley Management College were high-tech for 1997, they even had their own website - a single page of black text on a white background with no pictures.
My boss called me into his office for a conversation in early July 1997:
Boss: Mat, you're a computer expert, right?
Mat: Compared to you, my cat is a computer expert.
Boss: Instead of deliberately putting spelling mistakes in my letters to see if I spot them, how do you fancy building us a new website?
Mat: Hell yeah, woohoo!
Okay, maybe that's not verbatim. Either way, I was taken off typing duty and started my new project.
I had no idea what I was doing, Stack Overflow wasn't going to exist for another eleven years, and so I got an actual textbook. I taught myself HTML 3.2, building pages using the brand new Netscape 4 which had a code editor called Composer. I spent days trying to understand why pages looked totally different in Netscape and Internet Explorer 3, and decided I much preferred Netscape. I tried out the new Cascading Style Sheets and found that neither browser really supported them yet.
The college bought me a copy of PaintShop Pro to make graphics and buttons, and over the course of six weeks I assembled my very first website.
It had five pages, two fonts, a garish colour scheme, and I was incredibly proud when it went live on August 27th 1997: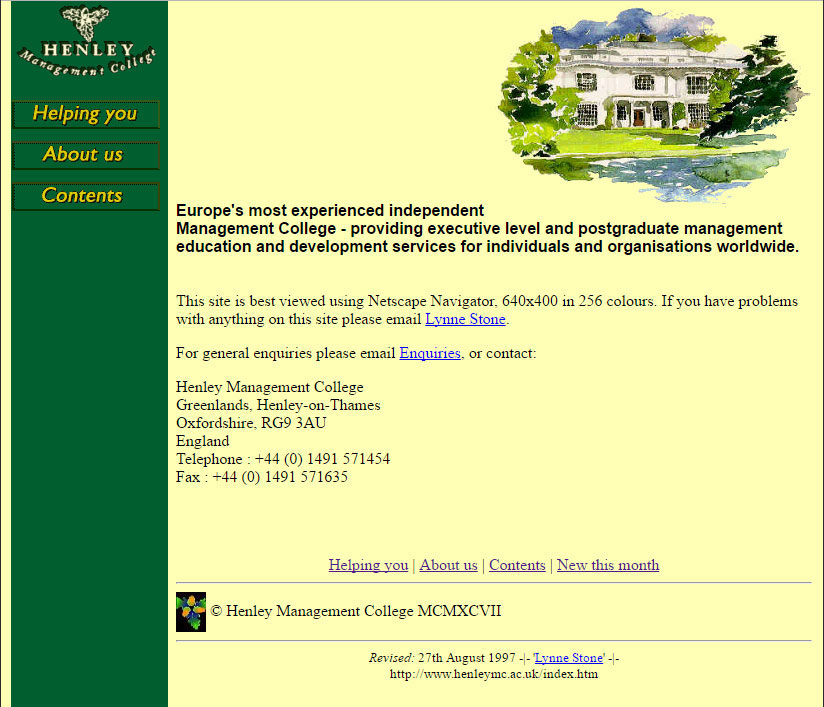 I expanded it over the next year during the holidays, and then I got my first graduate job working for a pharmaceutical company doing a mixture of IT and medical information work. I built their website too, and it shows just how fast the web developed between 1997 and 2000.
This site was built in ASP using newfangled technologies like CSS and Javascript, it had dozens of pages and featured buttons that change when you roll over them.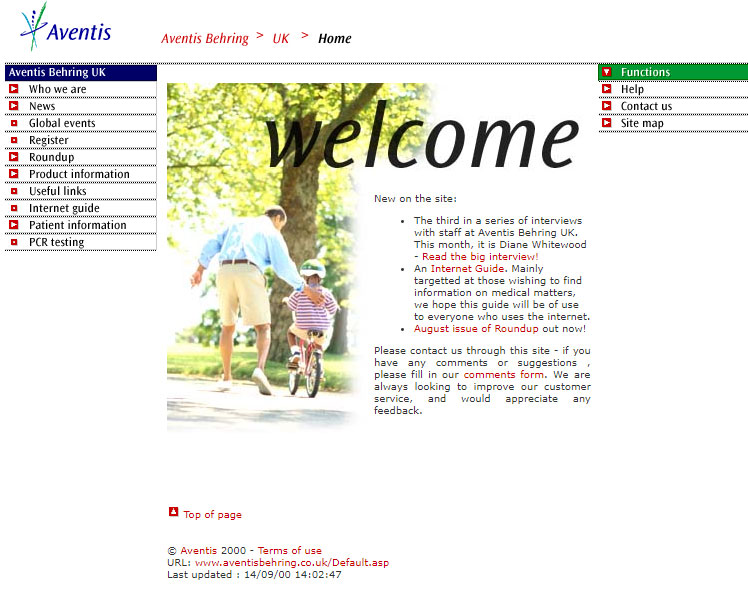 Since then I think I've worked on over 500 websites, from tiny single-pagers for fledgling companies to massive million-pound government projects. I couldn't even begin to guess how many lines of code I've written in that time. I've seen the web grow from a million sites to well over a billion, going from a dial-up 56Kbps modem to the 300Mbps fibre connection I'm writing this on now.
And I'm really excited to see what happens to the web in the next twenty years!