We were really excited when London-based music producer Effersay asked us to create his logo, brand and design the cover of his first EP, Solo Effort, which was released today! I wanted to share some of the design process that we went through with Effersay to create his visual style.
Logo design
The original brief was to create a logo using a strong typeface, and we sent a selection of heavy fonts in lower case as a starting point: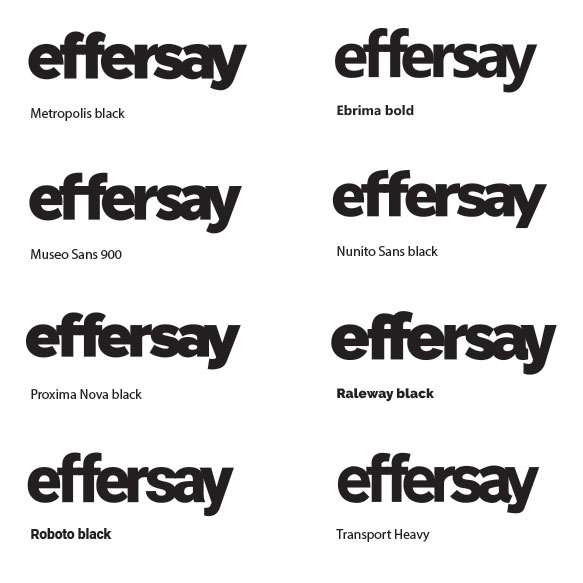 From this, he preferred the simplicity of Museo Sans and we set to work customising it. The brand is primarily online, across streaming and social media platforms, so the logo needed to be highly legible even at small sizes on mobile, and instantly recognisable. Effersay's name comes from his Danish roots, so we wanted to bring an element of that into the design. To my mind, the classic Danish letter is an ø but sadly that didn't feature in his name, so we played with bringing a strong diagonal into the logotype.
We went through several iterations, changing the spacing, font style and placement of the diagonals, before we all agreed on the final design, bottom right:
Next, we started looking at a suitable icon for use as an avatar across social media. It needed to be simple and bold, in order to stand out in a crowded social media environment. As he is a music producer, I liked the idea of incorporating the shape of a vinyl record into the icon so we created a set of options where the letter e is the same size as the label on a 7" or 12" record:
I was also keen to try some coloured options for the icon, which introduced grooves from a record, a printer glitch, and a visual representation of a sound wave:
Effersay preferred the 7"-sized black and white icon but also liked the glitch effect, which we decided to use in the branding.
Branding
We brought some of the glitchy effects into the branding for his Twitter page and also created a Spotify canvas, which is a short movie that plays in the background when playing songs by an artist.
EP design
Effersay was so happy with the logo and branding that he asked us to create the cover art for his first EP, Solo Effort. We were given free rein with the design. After listening to the EP a few times, I started to imagine a story of a guy making music all day in his studio, and then at night going out and posting stickers featuring his logo all over the city.
I started off by photographing stickers on walls all across Valencia as inspiration, then created a canvas that used multiple photos merged together. Each time I showed the concepts to Effersay he always asked for it to be more glitchy, so I repeatedly ran the artwork through an app called Glitch Lab and stacked the resulting images in Photoshop.
After a few rounds of the process, we had our finished artwork!
You can listen to the album on Spotify or buy it through Bandcamp or Juno Download.