We may be expert web designers but promoting ourselves is a skill that does not come naturally to us. Happily, we haven't had to focus on marketing as our new work has nearly always arrived through word of mouth. This shouldn't come as a huge surprise since it's how we find many of the services we all use, anything from plumbers to hairdressers or dog-sitters. Website design is in no way special or different.
Charting our progress
From the outset we've always recorded how new clients find us and invariably it has been through recommendations from friends, family, former colleagues or existing clients. As our portfolio has grown we have also had people contact us from clicking the Iteracy credit link in the footer of our websites, or more occasionally from people searching for Lostwithiel or Cornwall-based web developers.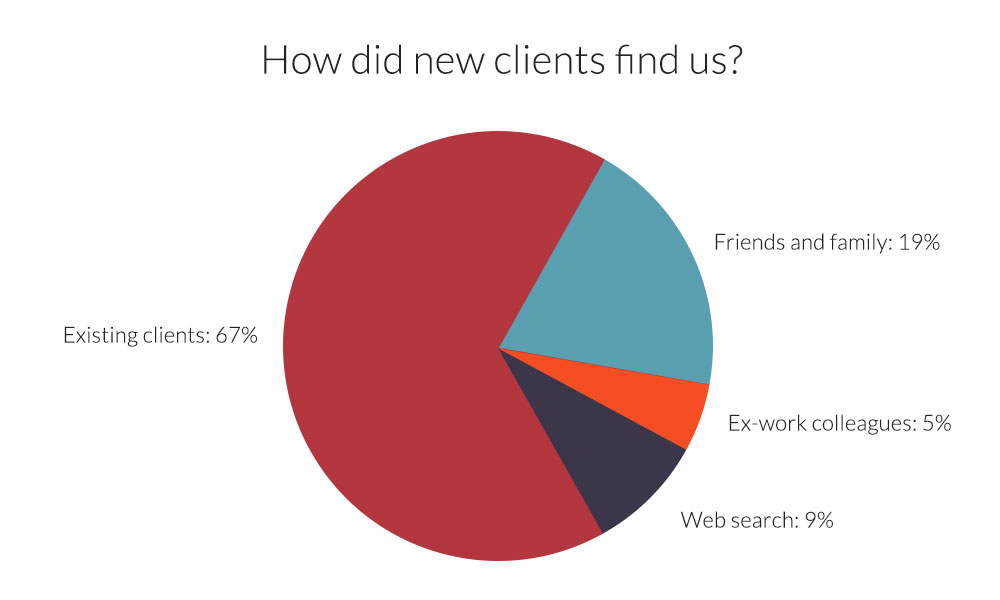 You can see the main sources of our new business from 2007 to November 2020 in this chart. 19% came via recommendations from friends and family with 5% from people we've previously worked with. The majority (67%) came from existing clients, but this figure is the result of an accumulation over the years as our customer base has grown. Friends and family played a much greater role when we first started; their introductions went on to become clients who then recommended us to others.
This suits us very well because - as already mentioned - we don't enjoy self-promotion, but also because a key part of our ethos is about building relationships with our clients. A personal recommendation means that right away we have something in common with our potential client, either a mutual friend, colleague or contact or a field of work. Another key benefit is that anyone who gets in touch is already thinking about setting up a website or updating an existing website; we don't have to convince them of the idea.
First meetings can sometimes be a challenge, especially if it's via a phone or video call rather than face-to-face, but it helps if someone you trust has given you a bit of background and set your expectations. Discussing a new website can add another level of anxiety as, at least initially, many people aren't sure exactly what they want or need and feel out of their depth with the technological side. It can be reassuring to be told beforehand that the person who picks up the phone will be happy to chat about any ideas in a friendly and non-judgemental way.
Word-of-mouth strategy
A word-of-mouth strategy is great because it costs nothing compared to paying for advertising or spending time pitching to clients, however it does require some effort on our part. First and foremost, we need to have satisfied clients who are happy to spread the good word for us. We work hard to keep our projects running on time and to budget, meeting all our clients' requirements and ideally, exceeding their expectations.
Next, once a project is complete and the website has been launched, we ask our clients to complete a satisfaction questionnaire and hold an internal reflection about how it ran, what went well and what went wrong. This allows us to identify changes that we can incorporate into future projects and improve our customer service even more.
Finally, we actively ask our clients to provide a testimonial and write a short review of Iteracy on Google or Facebook. These are really helpful because even if we've been recommended, it bolsters confidence to see other people singing our praises as well.
Ups and downs
The main downside of using personal recommendations is that we have no control over the rate of new business enquiries. Like the proverbial buses, there's sometimes a long gap with no contacts and then three will arrive at once, but this is a situation that we have learnt to manage. With just two of us and only so many hours in the day, there's only so many new websites that we can work on, and we have plenty of internal projects and housekeeping tasks to keep us busy whenever there's downtime.
A big thank you to all our friends, family and clients who have (and continue to) spread the word and if you haven't already, please leave us a review on Google or Facebook (preferably 5 stars!)